On-Page SEO Techniques To Rank On The First Page (Part 1)
When it comes to SEO, you can never undermine the importance of On-Page optimization for a successful SEO strategy of your website. More than 25% of your entire SEO work accounts for on page optimization. Over the years, search engine's algorithms have developed intensely and SEO analysts had to word hard to keep up with this fast paced, ever changing world of SEO. When Google rolled out its Penguin, Panda and Hummingbird updates, SEO scenario had to be changed the most.
On page SEO or On-Page optimization of the contents within your website is very important to get that elusive position in search ranks requires constant work. It won't work simply when you stop optimizing for an even better performance after reaching your desired position. Constantly staying up to date and updating is the key here. Below are the basic audit points that you need to keep in mind for the ultimate On-Page optimization. We will talk about some advanced on-page optimization points in next blog.
Start with your URL
Google prefers websites with relatively short URLs. And most importantly URLs containing KEYWORDS. When your URL looks like – www.proficuoussolutions.com//8/6/16/cat=SEO/on-page-seo-is-so-amazing-omg-its-the-best, high chances Google won't rank you higher. Instead you should aim for something like – www.proficuoussolutions.com/onpage-seo. Leaner, simpler, and contains keywords
Title tag
If you are targeting some specific keywords, try to include it in your title tag. Title tags have been one of the biggest influencing factors when it comes to organic page ranking.
Keyword density
Gone are the days when Google ranked sites solely based on the number of keywords in the content. Nowadays Google will mark you as spam if you stack way too many keywords. Finding the right balance is very very important. Although no recommended keyword density rate exists. But the general rule of thumb is keyword density of 1-2% of total words.
Keyword placement, prominence, and frequency
Another important keyword factor after keyword density is placing the keywords at the right place at the right frequency. Understanding which keywords are prominent and what should go where is crucial.
Include modifiers for On-Page Optimization
When you include modifiers such as "best", "Top", "2018" etc. Google would rank you higher than contents with no modifiers. This is because a lot of users search with these modifier terms.
Title with H1 tag
Including H1 tags in your title is a good idea to rank higher. Most CMS have default algorithms to automatically set your H1 tag or headline tag. In that case, you are good to go.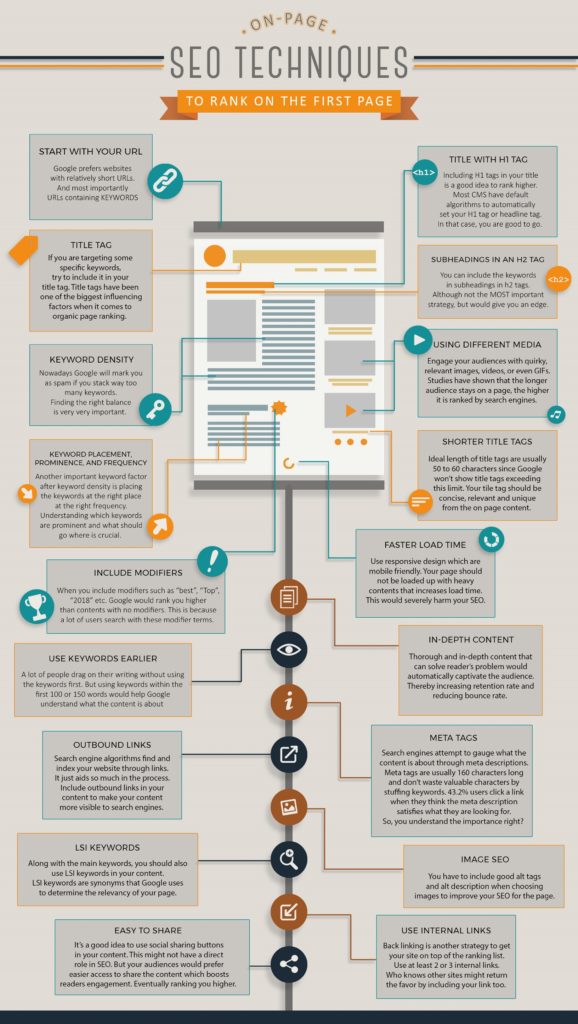 Subheadings in an H2 tag
You can include the keywords in subheadings in h2 tags. Although not the MOST important strategy, but would give you an edge.
Using different media
Engage your audiences with quirky, relevant images, videos, or even GIFs. Studies have shown that the longer audience stays on a page, the higher it is ranked by search engines. The other user interaction ranking factor is a reduction in bounce rate when you include multimedia along with texts. This also enhances the richness of your content by facilitating better understanding by the readers.
Use keywords earlier
A lot of people drag on their writing without using the keywords first. But using keywords in the 1st paragraph and within the first 100 or 150 words would help Google understand what the content is about . You will gain valuable relevance point which is the most important factor when it comes to organic ranking.
Shorter title tags
Ideal length of title tags are usually 50 to 60 characters since Google won't show title tags exceeding this limit. Your tile tag should be concise, relevant and unique from the on page content.
Meta tags
Search engines attempt to gauge what the content is about through meta descriptions. Meta tags are usually 160 characters long and don't waste valuable characters by stuffing keywords. 43.2% users click a link when they think the meta description satisfies what they are looking for. So, you understand the importance right? Use Latent Semantic Indexing (LSI) in other words use synonyms for your main keyword.
In-depth content
Thorough and in-depth content that can solve reader's problem would automatically captivate the audience. Thereby increasing retention rate and reducing bounce rate. Your content should be clear, useful, relevant and optimized for long-tail keywords. Craft the content in such a way that retains attention of the readers. High SEO ranking would come as a byproduct by default. Be careful to avoid copying other contents online, otherwise you would be penalized by search engines.
Outbound links
Search engine algorithms find and index your website through links. It just aids so much in the process. Include outbound links in your content to make your content more visible to search engines.
Image SEO
You have to include good alt tags and alt description when choosing images to improve your SEO for the page.
Faster load time
Use responsive design which are mobile friendly. Your page should not be loaded up with heavy contents that increases load time. This would severely harm your SEO.
Use internal links
Back linking is another strategy to get your site on top of the ranking list. Use at least 2 or 3 internal links. Who knows other sites might return the favor by including your link too.
LSI keywords
Along with the main keywords, you should also use LSI keywords in your content. LSI keywords are synonyms that Google uses to determine the relevancy of your page.
Easy to share
It's a good idea to use social sharing buttons in your content. This might not have a direct role in SEO. But your audiences would prefer easier access to share the content which boosts readers engagement. Eventually ranking you higher.
We, at Proficuous solutions, try our best to help you make your page the best possible version of itself. Following our suggested steps, you will have your website ranking very high on any search engine platform which will help you get a lot of users and bolster your website
Click here for some advanced On-Page Optimization strategies