Outsourcing recruitment process: the one thing you need in your business to improve efficiency
With increasing competition every day, companies are trying to do their best to minimize their cost. Focusing on the core business is one of the best ways to make your company efficient. Cutting down on activities that can be outsourced frees up valuable resources to focus on business even more. Outsourcing recruitment process helps to improve efficiency.
Recruiting the best people for the job is absolutely vital for the growth and development of your company. Candidates need to be competent, have a good understating of the job and most importantly, need to be able to fit into the job environment. Evaluating someone on the basis of some interviews is difficult and requires specialists. Without these people, most companies end up hiring people who don't fit the bill properly. Thus, a lot of companies are following the trend and outsourcing their recruitment process. Below are some benefits of Outsourcing your recruitment process:-
Reduce Cost
In order to recruit the best people, you need to have a strong recruitment team in working. That means having trained and experienced professionals in this field. That team will essentially cost a lot. This entire process will also add up to the total administrative cost. Cost-per-hire along with time-per-hire generally decreases massively when recruitment is outsourced.
Core Business Focus Increased
In the absence of a recruitment team, companies make up team from their usual employees to deal with recruitment. This ties down important resources which could be used to do more important tasks, more importantly tasks they are good at. Outsourcing recruitment process will obviously lead to greater efficiency.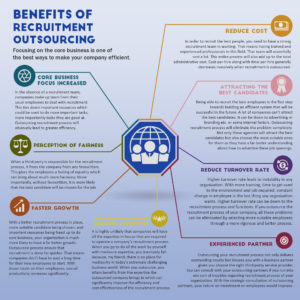 Attracting the Best Candidates
Being able to recruit the best employees is the first step towards building an efficient system that will be successful in the future. A lot of companies can't attract the best candidates. It can be down to advertising or branding etc. or some internal factors. Outsourcing recruitment process will eliminate the problem completely. Not only these agencies will attract the best candidates but also choose the most suitable ones for them as they have a far better understanding about how to advertise these job openings.
Reduce Turnover Rate
Higher turnover rate leads to instability in any organization. With more training, time to get used to the environment and job required, constant change in employee is the last thing any organization wants. Higher turnover rate can be down to the recruitment process and functions. If you outsource the recruitment process of your company, all these problems can be eliminated by selecting more suitable employees through a more rigorous and better process.
Perception of Fairness
When a third party is responsible for the recruitment process, it frees the company from any favouritism. This gives the employees a feeling of equality which can bring about much more harmony. More importantly, without favouritism, it is more likely that the best candidate will be chosen for the job.
Faster Growth
With a better recruitment process in place, more suitable candidate being chosen and important resources being freed up to do core business, your organization is much more likely to have a far better growth. Outsourced process ensure that recruitment is done far quicker. That means companies don't have to wait a long time for their new employees to start. With lesser strain on their employees, overall productivity increases significantly.
Greater expertise
It is highly unlikely that companies will have all the expertise in-house that are required to operate a company's recruitment process. When you go to do all the work by yourself with mediocre expertise, you inevitably fail. Because, my friend, there is no place for mediocrity in today's extremely challenging business world. When you outsource, you attain benefits from the expertise the outsourced company brings in which can significantly improve the efficiency and cost-effectiveness of the recruitment process.
Experienced partner
Outsourcing your recruitment process not only delivers outstanding results but blesses you with a business partner given you choose the right third-party service provider. You can consult with your outsourcing partners if you run into any sort of troubles regarding recruitment process of your organization. With the strategic consultation of outsourcing partners, your return on investment on employees would improve.
Here in Proficuous Solutions, We offer you the opportunity to take your company to the next level by outsourcing your recruitment process to us. We can guarantee you of absolute best quality in recruitment. Our extensive selection process will ensure that, you get the best possible candidates who will suit your organization's needs perfectly. Our services will cost significantly less than having a complete recruitment team on board. This is a step you absolutely need to take to get the best out of your company. Contact us today to know how we can help you with our recruitment services.